Research has shown that Interferential therapy can help with chronic constipation.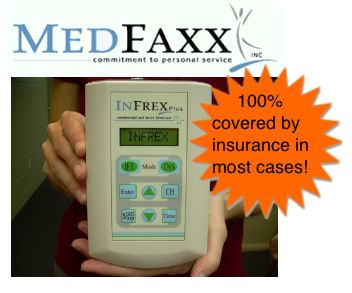 So what is Interferential therapy anyway? Much like TENS therapy, Interferntial therapy involves a small pulsing electrical current, which is applied to the body with electrode patches. It is harmless and there is no electrical shock to the body. It is a gentle electrical pulse which has historically been used for chronic pain. Now research shows that it is effective for constipation as well.
The good news is you can try Interferential therapy at home for FREE with no risk or cost to you.
Simply enter your information in the form below to find out more.
Or call us at 800-937-3993 during business hours
9am – 5 pm Monday – Friday.
Leave a message anytime and we will get back with you.
Learn More About the Research
Press release on Interferential Therapy
100% free trial – try for 30 days and if does not work then return Infrex Plus high frequency interferential
Physician prescription/order needed. MedFaxx will bill insurance for purchase if desire to purchase.
Safe for children. Over 50 years of results.
Credit card required as security if unit not returned.
Safe, effective, non drug, treat at home for 15- 30 minutes 3 to 4x weekly.