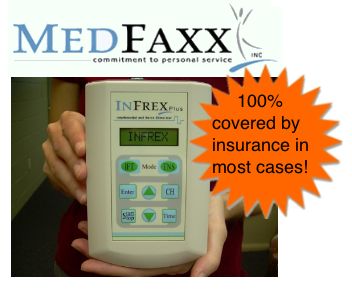 Have you suffered from chronic pain?
Are you seeking a drug-free way to alleviate pain?
Are you unable to fully enjoy activities with friends and family because of chronic pain?
Interferential treatment previously only available by visiting the clinic, is now available in a portable home unit –
The Infrex Plus
The Infrex unit is the first portable unit to combine the most used forms of electrotherapy in and outside of the clinic. TENS and Interferential therapy together in the same portable unit. Developed for home use, the Infrex Plus is worn like a tens unit, and comes with an AC adaptor for home or office use. Similar electrodes you have always worn for tens will cross over seamlessly for use with this new technology.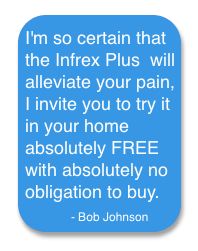 Portable, drug-free relief for sufferers of:
Chronic Back Pain
Sciatica
Herniated Disc
Bulging Disc
Spinal Stenosis
Pinched Nerve
Spinal pain

Lumbar pain
RSD
Fibromyalgia
Shingles
Phantom Limb Pain
Osteoarthritis